Detective Teekshana Movie Trailer Is Out Now
Published On: September 16, 2023 | Posted By:
ravindra
Detective Teekshana Movie Trailer Is Out Now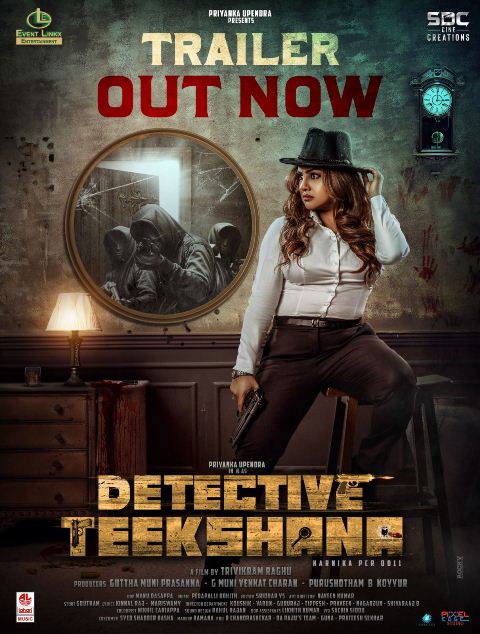 Enthralling Trailer Of Priyanka Upendras 50th Film Detective Teekshana Is Out
A Detective Wife in Every House –Real Star Upendra
Action Queen Dr.Priyanka Upendra s 50th film, Detective Teekshna trailer release ceremony was held in grand manner at the Artists Association Auditorium, Bengaluru. Laharivelu spoke and reminisced about the difficult days of Upendra and wished the team good luck. Producers Guttha Muni Prasanna, Muni Venkat Charan and Purushottam.B.Koyuru shared the joy.
Real Star Upendra launched the Trailer in multiple languages.
The trailer begins with murders taking place done by various people in gruesome manner. It also showcases the pain of women undergo while their sons and husbands are getting murdered. There seems to be no respite for them in the court also. Then comes Priyanka Upendra as Detective Teekshana to crack the case. The trailer is rich technically with impressive cinematography and music. Priyanka Upendra performed stunts and the trailer has further raised the bar of expectations. On this occasion
Director TrivikramRaghu says, Priyanka Madam recognised my talent and gave me this chance. Her co-operation from the beginning is unforgettable. Artists and technicians worked hard in bringing my ideas to life. The film will hit the screens in two months.
Real Star Upendra Says, A Detective is present in all women. Especially in my house there is more. Every husband has detective wife. A proper detective role has become super at every stage. Music is chest thumping while watching the trailer, in the midst where comes the Huvve Huvve part. Priyanka has done 50 films. I am still at 46. I wish this movie to become a hit. How about signing 100th movie together. All your hard work will surely be rewarded.
The Producers Guttha Muni Prasanna, Muni Venkat Charan Thanked the Guests and mentioned their long standing association with Priyanka Upendra and Thanked her for all the support
Priyanka Upendra says, When I see that I have acted in 50 movies, it feels like 50 seconds. The reason for this is that the Director and Producer choose me. I used to listen to each and every one. All the artists worked very hard. Even though it was 2 am, we were all cheerful on the sets. Although the character is not physically strong, the role is mentally sharp. I can say that the director has a good future.
Vijayasurya, who appeared in the role of helping in the investigation, artists like Sidlingu Sridhar, Shashidhar, Cameraman Manu Dasappa, Editor Sridhar, and Art Director Naveen Kumar shared their experiences. Dignitaries like Karnataka Film Chamber of Commerce President Ba.Ma.Harish, Tollywood PRO, BA RAJUs Team (Shivakumar B) etc., were present. Music is provided by P. Rohit. Detective Teekshana is being as a PAN India Film and is getting ready to release in seven languages, Kannada,Telugu, Hindi, Tamil, Malayalam, Bengali & Oriya.