Director Trivikram Srinivas Launched Teaser Of First Day First Show
Published On: July 11, 2022 | Posted By:
ravindra
Director Trivikram Srinivas Launched Teaser Of First Day First Show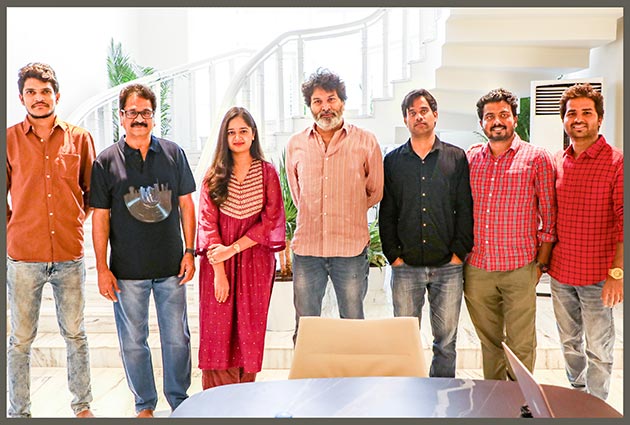 Ace Director Trivikram Srinivas Launched Teaser Of Poornodaya Creations, Srija Entertainments, Mitra Vinda Movies First Day First Show
First Day First Show (FDFS) is an upcoming film produced by esteemed production house Poornodaya Creations, under their granddaughter's banner Srija Entertainments. The movie is also co-produced by Mitravinda Movies. Edida Sriram is presenting the movie.
Jathi Ratnalu fame director Anudeep KV provided story and screenplay of the movie being helmed by directors duo Vamsidhar Goud and Laksminarayana Puttamchetty. Today, ace director Trivikram Srinivas launched the teaser of the movie and conveyed his best wishes to the makers. Impressed by the visuals of the teaser, he also applauded the young team for putting the project together.
The teaser revealed the movie is set in 2001 and is about the lead actor trying to find First Day First Show tickets of Pawan Kalyan's blockbuster Kushi to impress his girlfriend. The film is about the difficulties to be faced by the protagonist to get the tickets. Fans Hungama, atmosphere at the theatres during that time were rightly shown.
The movie has a lot of familiar faces namely- Venella Kishore, Tanikella Bharani, Mahesh, Srinivas Reddy, Gangavva amongst others. The teaser promises that the film will be nothing short of a hilarious comedy entertainer.
Srikanth Reddy impresses on his debut in the lead role, wherein Sanchita Bashu looked beautiful. Radhan has scored music and the first song Mazza Mazza has become a smash hit, garnering high viewership on YouTube and consistently attaining trending status on short video apps such as Rizzle, Josh and Chingari. The audio rights of the movie have been secured by Aditya Music.
Prasanth Ankireddy is the cinematographer, while Madhav is the editor.
FDFS is scheduled to release in August.
Cast: Srikanth Reddy, Sanchita Bashu, Thanikella Bharani, Vennela Kishore, Srinivas Reddy, Mahesh Achanta, Prabhas Sreenu, Gangavva, CVL Narasimha Rao, Vamsidhar Goud and Sai Charan Bojja
Technical Crew:
Presents: Edida Sriram
Story: Anudeep KV
Producer: Srija Edida
Direction: Vamsidhar Goud, Lakshmi Narayana P
Screenplay: Anudeep KV, Vamsidhar Goud and Kalyan
Dialogues: Anudeep KV, Vamsidhar Goud
Music: Radhan
DOP: Prasanth Ankireddy
Editor: Madhav
PRO: Vamsi, Shekar