Heroine Anu Emmanuel Interview
Published On: November 8, 2023 | Posted By:
ravindra
Heroine Anu Emmanuel Interview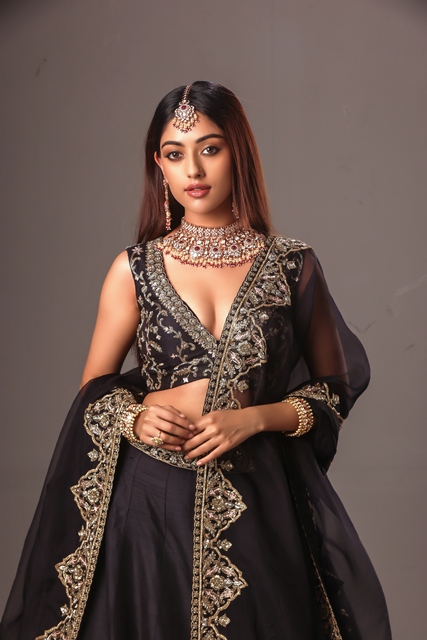 My role in Japan is a surprise element; it is a crazy & unique film: Heroine Anu Emmanuel
Actor Karthi is ready to entertain the audience with his 25th film, Japan. Directed by Raju Murugan, this pan-India heist thriller is produced by SR Prakash Babu and SR Prabhu under the Dream Warrior Pictures banner, while Annapurna Studios is releasing the movie in Telugu. Anu Emmanuel played the female lead in the film, which is all set to open grandly in theatres on November 10.
Ahead of the release, the actress interacted with the media, where she said that Japan has a unique story. She continued, Raju Murugan is a very versatile director. Each of his films is different. Karthi Garu, Dream Warrior Pictures, DOP Ravi Varman, and GV Prakash Kumar, have all come together for this movie. Japans story and character are very unique. I have never heard such a story before. As an audience, I am very interested in watching such a movie.
She called her co-star, Karthi, the nicest human being. Heaping praise on him, she said, Karthi is an amazing actor and a team player. We used to discuss before doing any scene. Off-screen, Karthi is a great human being. This is Karthis 25th film, and its an honour to work with him. He takes a lot of care and is very supportive. Karthi is a great co-star.
Sharing some unique elements that will entertain the audience in Japan, Anu said, Just watching the trailer and teaser makes you understand that Japan is a unique movie. No one has done such a role before, and I say this is the perfect film for Diwali. It is a film that provides a great theatre experience. Everyone must watch it in theaters. Japan is so crazy. It gives a new experience to the audience, and they will surely enjoy it.
While the audience got an idea about Japans character, no one knew what Anu was playing, and the actress wanted to keep it as a surprise for the audience. Without revealing much, she shared, My role in Japan will be a surprise element. I dont want to reveal too much about it right now. I will be seen as an actress. My role is crucial in Japans life. There is a very interesting track between Karthi and my character. It will definitely entertain everyone.
Furthermore, she shared that Japans background music is amazing and that it gives a great experience in theater. The songs are also very unique. The music suits the story and is very different, she added.
Calling Sunil his favourite actor, Anu recalled, There are scenes with Sunil in Japan. Sunil is my favourite actor. I worked with him earlier on the movie Urvashivo Rakshasivo. He is a very versatile actor and played an excellent role in Pushpa. His role is very good in Japan too.
This is an SR Prabhu production, and Anu believes that her producer is very passionate about cinema. The best team was given to Japan. Karthi, Raju Murugam, Ravi Varman, and GV—we worked with such an amazing team. We shot in many amazing locations, like Kerala, Kashmir, and Chennai. The film was made without any compromise. Also, amazing promotions are going on everywhere- Chennai, Hyderabad, Kerala, and Dubai. Prabhu is one of the best producers I have worked with, she said.
Lastly, the Manju star confessed that there is no such thing as a dream role for her. You have to play roles that the audience likes. I wish to get some good characters and stories, concluded Anu Emmanuel.