Hi Nanna Movie Second Single Release On 6th October 2023
Published On: October 3, 2023 | Posted By:
ravindra
Hi Nanna Movie Second Single Release On 6th October 2023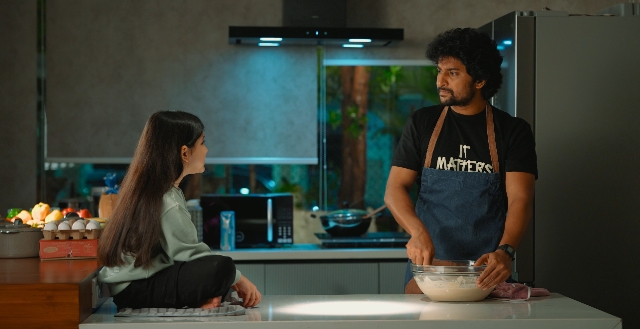 Natural Star Nani, Shouryuv, Vyra Entertainments, Hi Nanna 2nd Single Gaaju Bomma On October 6th
The musical gala of the Pan India film Hi Nanna began with the mellifluous number Samayama which showed the lovely chemistry between the lead pair- Natural Star Nani and Mrunal Thakur. The films second single Gaaju Bomma will be out on October 6th.
The same has been announced through a video where Nani and Kiara Khanna have a beautiful conversation. The girl asks when will the song of Father-daughter be released. Nani calls her Gaaju Bomma and it is revealed that this is going to be the soul of Hi Nanna. The music for the movie is scored by Hesham Abdul Wahab.
Hi Nanna marks the directorial debut of Shouryuv. It is produced by Mohan Cherukuri (CVM) and Dr Vijender Reddy Teegala on Vyra Entertainments.
The wholesome family entertainer has Sanu John Varughese ISC cranking the camera, while Praveen Anthony is the editor and Avinash Kolla is the production designer. Satish EVV is the executive producer.
Hi Nanna is scheduled for release in Telugu, Tamil, Kannada, Malayalam, and Hindi languages on December 21, this year.
Cast :
Nani, Mrunal Thakur, Baby Kiara Khanna
Technical Crew:
Director: Shouryuv
Producers: Mohan Cherukuri (CVM) and Dr Vijender Reddy Teegala
Banner: Vyra Entertainments
DOP: Sanu John Varughese ISC
Music Director: Hesham Abdul Wahab
Editor: Praveen Anthony