Rules Ranjann Movie Release On 6th October
Published On: September 12, 2023 | Posted By:
ravindra
Rules Ranjann Movie Release On 6th October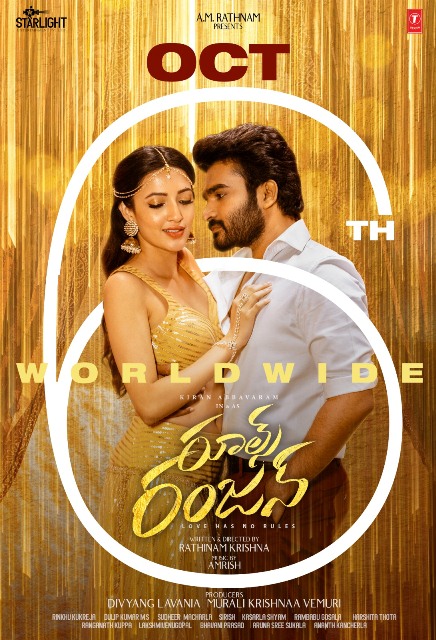 Rules Ranjann, Kiran Abbavaram, Neha Sshettys entertainer, to have a grand release on October 6
Kiran Abbavaram, popular for his performances in Raja Vaaru Rani Gaaru, SR Kalyana Mandapam, Vinaro Bhagyamu Vishnu Katha is teaming up with DJ Tillu fame Neha Sshetty for the out and out entertainer Rules Ranjann. The film is helmed by Rathinam Krishna, who made films like Nee Manasu Naaku Telusu, Oxygen earlier.
Produced by Divyang Lavania, Murali Krishnaa Vemuri under Star Light Entertainment, the film is presented by noted producer AM Rathnam. The film hogged the limelight recently for the entertaining trailer launched this week, attracting youngsters and family crowds alike with the humour, emotions and whacky treatment.
The film will now be releasing in theatres on October 6, the makers confirmed today. The producers took the decision in order to reach out to a majority of their target audience and entertain people across all age groups on a large scale. Theyre quite confident of their product and believe that a right release date could do wonders in terms of widening the films reach among audiences.
Rules Ranjann is a quirky romantic entertainer revolving around contrasting protagonists – an orthodox guy whos a stickler for rules and traditions and a modern-day, liberated woman, whos unafraid to stand by her decisions. The film centres on the unexpected situations that arise during their relationship, offering a right mix of romance, humour and emotions.
Amrish scores the music for the film and all the three songs – Enduku Ra Babu, Sammohanuda, Naalo Lene Lenu – are a hit with listeners. Vennela Kishore, Hyper Aadi, Viva Harsha, Nellore Sudarshan, Subbaraju, Ajay, Goparaju Ramana, Annu Kapoor, Siddharth Sen, Atul Parchure, Vijay Patkar, Makarand Deshpande, Abhimanyu Singh and Gulshan Pandey play other crucial roles.
Cast –
Kiran Abbavaram, Neha Shetty, Meher Chahal, Vennela Kishore, Subbaraju, Hyper Aadhi, Viva Harsha, Annu Kapoor, Ajay, Atul Parchure, Vijay Patkar, Makarand Deshpande, Nellore Sudarshan, Goparaju Ramana, Abhimanyu Singh, Siddharth Sen.
Crew  –
Written and Directed by: Rathinam Krishna
Produced by: Star Light Entertainment Pvt Ltd
Presented by: A.M. Rathnam
Producers: Divyang Lavania, Murali Krishnaa Vemuri
D.O.P – Dulip Kumar M.S