Saindhav Movie Coming For Sankranthi On 13th January 2024
Published On: October 5, 2023 | Posted By:
ravindra
Saindhav Movie Coming For Sankranthi On 13th January 2024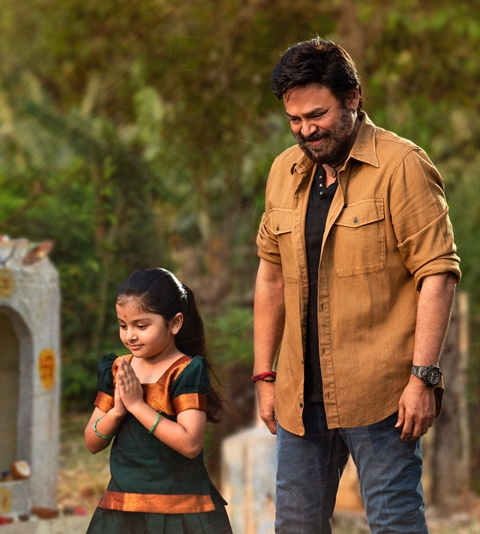 Victory Venkatesh, Sailesh Kolanu, Venkat Boyanapalli, Niharika Entertainments Prestigious Project Saindhav Coming For Sankranthi On 13th  January 2024
Victory Venkateshs landmark 75th film Saindhav directed by the very talented Sailesh Kolanu of HITverse with Venkat Boyanapalli of Niharika Entertainment producing it is gracing the cinemas for Sankranthi. The festival season indeed is the best choice for the release of this unique action and family entertainer.
As announced officially by the makers, Saindhav is coming a day before the festival on January 13th. Venkatesh can be seen with Baby Sara in the poster.
Sankranthi is one of the most propitious occasions for Venkatesh and the makers dont want to miss the opportunity to capitalize on long festival holidays. Moreover, they get extra time to promote this Pan India film at the national level.
All the eight characters of the movie- Venkatesh, Nawazuddin Siddique, Arya, Shraddha Srinath, Ruhani Sharma, Andrea Jeremiah, Sara, and Jayaprakash were introduced through different posters.
Santosh Narayanan who is one of the most sought-after composers scores the music, while S Manikandan cranks the camera. Garry BH is the editor and Avinash Kolla is the production designer. Kishore Thallur is the co-producer.
Saindhav is done with its Principal shooting part and post-production works are presently underway. The movie will be released in all southern languages and Hindi.
Cast :
Venkatesh, Nawazuddin Siddiqui, Arya, Shraddha Srinath, Ruhani Sharma, Andrea Jeremiah, Sara, Jayaprakash
Technical Crew :
Writer-Director: Sailesh Kolanu
Producer: Venkat Boyanapalli
Banner: Niharika Entertainment
Music: Santosh Narayanan
DOP: S.Manikandan
Music: Santosh Narayanan
Editor: Garry Bh