UI The Movie Teaser Launched
Published On: September 19, 2023 | Posted By:
ravindra
UI The Movie Teaser Launched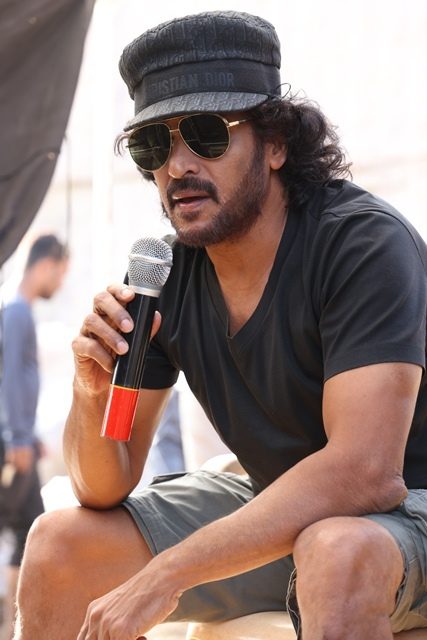 A Never before Teaser by Upendra for UiTheMovie in the history of filmmaking.
Kannada Superstar Upendra celebrated his birthday on the 18th September amongst all his fans and on this special occasion, the master story teller met his fans at Urvashi Theatre in Bengaluru. During this event among Superstar Shiva Rajkumar & Salaga Vijaya kumar unveiled a unique never before teaser in the history of filmmaking for his most awaited upcoming directorial project UiTheMovie bankrolled by Lahari Films, G Manoharan & Venus Enterrtainers, K P Sreekanth and Co-Produced by Naveen Manoharan.
Upendra renowned for his directional versatility and who features in the Top 20 best directors in the world on IMDB once again showcased his creative vision, by releasing a teaser of a film without even a single frame of visual being shown in the video. Leaving fans awestruck and what makes this teaser distinct is that it has his stamp of him being Unique with an unconventional approach that is it relies on immersive spatial audio and Dolby atoms sound experience without a single frame of visual other than just logos.
This being a ground breaking move in the history of filmmaking the audio-only teaser immerses the audience with 3D sound effects into a world of suspense and tension, featuring chilling screams and unsettling sounds. As the teaser reaches its climax, a mysterious female voice whispers huskily, This is not the world of AIthis is the world of UIUse your imagination to escape! The teaser concludes with a compelling statement saying: THIS TEASER IS FOR YOUR IMAGINATION.
Leaving audiences wanting for more and awestruck with his creativity. This teaser has further garnered huge craze for this magnum opus film UiTheMovie slated for release this year end making it one of the most awaited movie of this year.
Cast :

Upendra, Reeshma Nanaiah, Nidhi Subbaiah, Murali Sharma, P Ravi Shankar
Crew :
Music : Ajaneesh Loknath (Kantara Fame)
Cinematography : Venugopal (A & H2O Fame)