Vimanam Movie Success Meet Event
Vimanam Movie Success Meet Event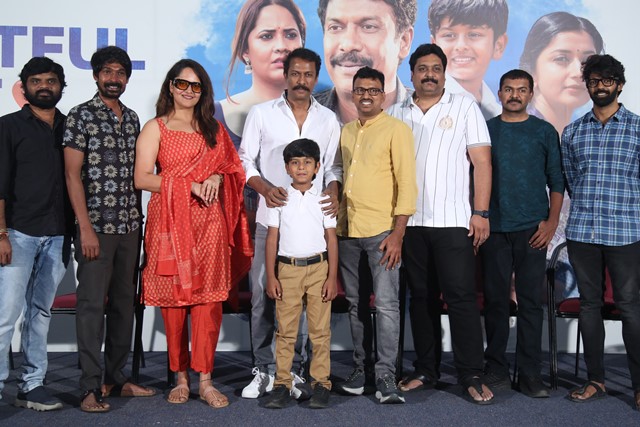 Thanks To The Audience For Once Again Proving That They Will Embrace Content Based Films With The Success Of Vimanam Samuthirakani
Vimanam starring Samuthirakani, Master Dhruvan, Anasuya Bharadwaj, Rahul Ramakrishna, Dhanraj in lead roles released in theatres worldwide in Telugu and Tamil languages on June 9th. The film has received  super hit talk from all quarters for its emotional and heartwarming content. 'Vimanam' is directed by Shiva Prasad Yanala while ZEE Studios and Kiran Korrapati Kiran Korrapati Creative Works have jointly produced it. The team held a success meet to share their happiness. On this occasion
Samuthirakani says,Vimanam stands as a best example for good films will always be embraced and promoted by the audience themselves. This has been proved for many times. Vimanam proved it again. Thanks to ZEE Studios. My first film was a flop. That was my birthday and nobody called me. But kept staring at the phone. Looking at it my friend even scolded me for keep looking at the phone. That was my feeling I experienced for my first film. But, Vimanam director Siva Prasad garu scored a good hit with his first film itself. Congratulations to him. ZEE Studios, Nimmakayala Prasad garu called me saying that the theatre count has been increased after the film's release. Listening to that I felt very happy. Let's meet again on July 28th.
Producer Kiran Korrapati says, The audiences got connected with the concept and emotions in the story. This leads to the spread of good mouth talk resulted in increased occupancies from the matinees itself. Now, the theatre count has increased. I am glad to see the warm reception for the film and it keeps on increasing day by day. Such an emotional film like Vimanam comes very rarely. Encouraging such films will boost the morale of industry and gives confidence to new upcoming directors. Thanks to my team mates, Hanu, Vivek, Charan Arjun. Director Siva approached me with a very good script. A very good team has formed for Vimanam. The story itself has selected the team. Thanks to our executive producer Hanumantha Rao garu. ZEE Studios Nimmakayala Prasad garu picked very good stories and lends his support. Thanks to him on this occasion. Thanks to Aditya Music.
Dhanraj says,I heartfully thank the audience for making Vimanam movie a big hit. We all know how important pilot is for making a ln airplane to fly. In the same way, to make our Vimanam reach this stage, Producers Kiran garu, ZEE Studios, Director Siva Prasad garu worked as pilots.  Media worked as autopilots to land this film in theatres. Thanks to everyone who worked to make such good film reach to the audience."
Writer Hanu says, Thanks to all those who encouraged and embraced Vimanam movie.  This film has the stories about lives we didn't know. Kids should watch this film.
Cinematographer Vivek says, Vimanam movie gets very good positive response. Families are coming to the theatres to watch the film. Vimanam like films comes very rarely.I got connected the moment while Director Siva garu narrating the story. Actors and team have taken the film to next level. Kiran garu and Prasad garu is our biggest support systems.
Music Director Charan Arjun says, After watching Vimanam movie, my son and daughter is asking me to board a flight. They didn't have an aadhar card yet so I didn't board them on flight. But, Vimanam movie gave me an Aadhar Card as a music director. Vijay Kanakamedala is a very good friend of mine. We were roommates. He called me after watching Vimanam movie. He told me that I made him think about why he didn't consider me as a music director for his two films after watching my work in Vimanam. Samuthirakani garu also called me. I was very happy when he is talking about my background score in the film. He assured my wife saying that he will look after me. I should thank Kiran anna on this occasion. He keeps on encouraging me since the beginning of my career. He gave me the opportunity as music director after he turned into a Producer. Thanks to Siva Prasad garu for making such an amazing film. I am feeling very proud working for Vimanam.
Director Siva Prasad Yanala says, Everyone speaking high about Vimanam film after watching it. Father is a great hero. Samuthirakani garu as Veerayya, Dhruvan as his son, Anasuya as Sumathi, Rahul Ramakrishna as Koti, Dhanraj as Daniel everyone loved in their roles in my story. Thanks to Producer Kiran garu, ZEE Studios Prasad garu. They believed me, my story and gave me an opportunity as a director. I feel that kick. Thanks to our technical team. My father has watched the film. When I asked about the film, he said that he remembered his father. My mother also said the same. I felt very happy with their reactions.
Master Dhruvan says,I wish audience should always give such a good encouragement to films like these. Thanks to producers Kiran garu, Prasad garu and Director Siva Prasad garu. Thanks to Samuthirakani garu and Anasuya garu.
Anasuya Bharadwaj says,Jabardasth program directors Nithin, Bharath garu told me about this project. They said that Siva Prasad garu who worked in our team has a story and asked me to listen to it. I know Siva Prasad garu since Jabardasth days. I instantly cried after listening to the story narrated by Siva Prasad garu. It reminded me of Matrudevobhava. Our Father is an unsung hero in all of our lives. I decided to become a part of this film. We all are kids somewhere. That's why we all get connected to the film. The Sumathi character I played in this film is a different role in my career. We made this film with utmost love and now we are receiving the same amount of love from the audience. Without Samuthirakani, 'Vimanam' couldn't come out in such a great manner. Dhruvan is a natural actor. Thanks to our technical team. Thanks to Producer Kiran garu, Prasad garu and Director Siva garu.