ANIMAL Movie Romantic Track Ammayi Launched
Published On: October 11, 2023 | Posted By:
ravindra
ANIMAL Movie Romantic Track Ammayi Launched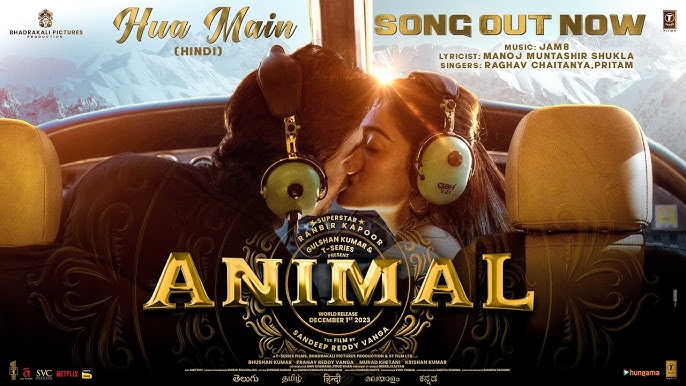 Catch Ranbir Kapoor & Rashmika Mandannas Intense Chemistry with the Romantic Track Ammayi from ANIMAL!
Immerse yourself in the world of love and passion and experience the undeniable allure of Ranbir Kapoor and Rashmika Mandanna as they ignite the screen with their intense chemistry in the highly anticipated romantic anthem of the year Ammayi from the upcoming film Animal helmed by Sandeep Reddy Vanga.
Sung by Raghav Chaitanya, this soulful melodys Telugu words are penned by Anantha Sriram and composed by the maestro of melodies, Pritam. Pritam and Ranbir Kapoor, known for their magical collaborations in the past, continue to weave their spellbinding musical magic with Ammayi, promising audiences an unforgettable musical experience.
Beyond its hauntingly beautiful melody, Ammayi showcases the scorching chemistry between the films lead pair, Ranbir Kapoor and Rashmika Mandanna. The song begins with a passionate lip lock as the duo introduces their love to Rashmikas family, followed by a series of kisses as they travel to a devotional place to get married.
The songs poster, which set the internet ablaze with its electrifying and passionate kiss between the two stars, has generated immense anticipation for the release of this track. Hua Main in Hindi and Ammayi in Telugu live up to the hype, offering a visual and auditory feast that adds an extra layer of intrigue to the highly anticipated film Animal.
Prepare to surrender to the enchantment of Ammayi as it serenades its way into your heart, becoming the ultimate romantic anthem of the year. Get ready to fall in love all over again with this unforgettable musical experience.
Animal is produced by Bhushan Kumar & Krishan Kumars T-Series, and Pranay Reddy Vangas Bhadrakali Pictures. The film will be released in 5 languages – Hindi, Telugu, Tamil, Kannada, and Malayalam on December 1st.
Cast :
Ranbir Kapoor, Anil Kapoor, Rashmika Mandanna, Bobby Deol, and Tripti Dimri
Technical Crew :
Director: Sandeep Reddy Vanga
Producers: Bhushan Kumar, Pranay Reddy Vanga
Banners: T Series, Bhadrakali Pictures