Bharathanatyam Movie Teaser Launch Event
Published On: October 9, 2023 | Posted By:
ravindra
Bharathanatyam Movie Teaser Launch Event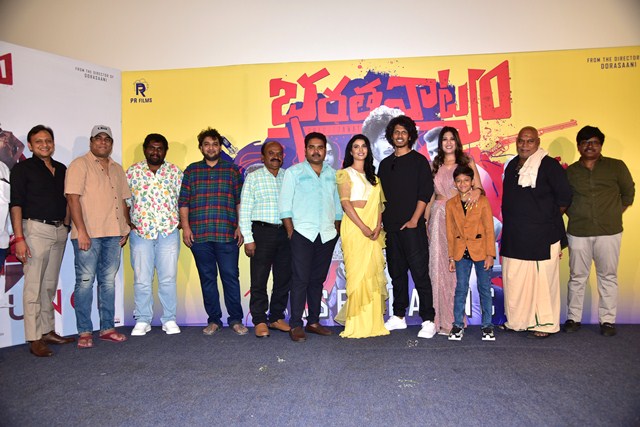 Surya Teja Aelay, KVR Mahendra, Payal Saraf, PR Films Bharathanatyam Teaser Unleashed
Surya Teja Aelays debut movie Bharathanatyam under the direction of KVR Mahendra of Dorasani fame is done with its shoot and post-production works are presently underway. Recently, the makers began the promotions by unveiling a first-look poster that presented the hero in a stylish look. Today, they released the films teaser.
The teaser opens with the introduction of Surya Teja as an aspiring filmmaker who has many problems in life like that of a hero in his story. The hero tries to commit a big mistake to get rid of that ill fate. The teaser then introduces us to the world of Bharathanatyam.
Surya Teja impresses with his acting prowess in his very debut flick and he chose the right subject that has all the commercial ingredients. The young hero himself penned the story. Director KVR Mahendra presented the story in a gripping manner. The teaser surely grabs the attention for its refreshing story, superb story-telling, and good technical and production standards.
Meenakshi Goswami played Suryas lady love in the movie which also features many noted actors such as Viva Harsha, Harshavardhan, Ajay Ghosh, Salim Pheku, and Temper Vamshi.
Payal Saraf is producing this film under the banner of PR Films. Vivek Sagar has done well to elevate the comedy quotient, while Venkat R Shakamuris camera work is appreciable. Ravi Teja Girijala is the editor of the movie. The makers will announce the release date of the movie soon.
Cast :
Surya Teja Aelay, Meenakshi Goswami, Viva Harsha, Harshavardhan, Ajay Ghosh, Salim Pheku, Gangavva, Krishnudu, Temper Vamshi, Naga Mahesh, Tarzan, Manik Reddy, Shivannarayana, Sattanna, Santosh Balakrishna
Technical Crew :
Direction: KVR Mahendra
Producer: Payal Saraf
Screenplay: Surya Teja Aelay, KVR Mahendra
Music: Vivek Sagar
DOP: Venkat R Shakamuri
Editing: Ravi Teja Girijala