Commitment Movie Press Release
Published On: July 28, 2022 | Posted By:
ravindra
Commitment Movie Press Release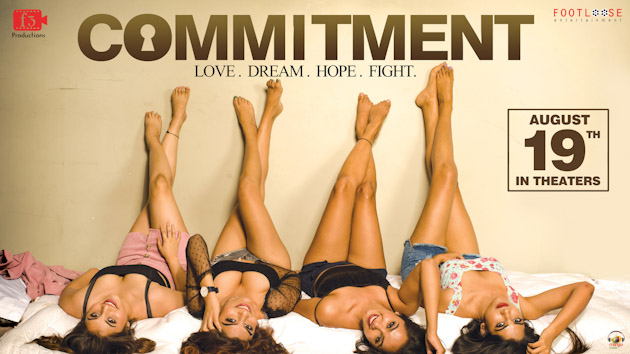 An interesting movie is coming with four stories attracting everyone's attention in Tollywood. Produced by Rachna Media Works, F3 Productions and Foot Loose Entertainment, the movie Commitment stars Tejaswi Madiwada, Anveshi Jain, Seemer Singh, tanishq rajan,Amit Tiwari, Surya Srinivas, Abhay Reddy in Key roles. The already released teaser and songs of the movie have received a good response. This movie has been censored and received praises from the censors and is being released in a grand way on August 19. On this occasion, producer Baldev Singh and Neelima Taduri said.. We made this movie as our best effort. Every single actress and actor who worked in our film gave a good output with the support of the technician.
Actors:
Tejaswi Madiwada, Ramya Pasupuleti, Seemer Singh, Anveshi Jain, tanishq rajan,Amit Tiwari, Surya Srinivas, Maganti Srinath, Abhay Reddy,
Tankishq Jain, Raja Ravindra and others.
Production: F3 Productions, Foot Loose
Producers : Neelima Taduri, Baldev Singh
Story, Screenplay, Direction: K.Chenna
Music Director : Naresh Kumaran
DOP: Sajeesh Rajendran, Naresh Rana,
Editor: Praveen Pudi
Executive Producers : Dwarkesh
Line Producer : Suresh Polaki
Dialogues: Santhosh Harsha, Karthik, Arjun, Kalli Kalyan,
Concept : Ishwar Gaya
Art : Supriya Battepati
Lyrics: Poorna Chari, Gandhi
Choreography : Harikiran
Co-Director : Mehar
PRO: Sripal Cholleti