Ilanti Cinema Mireppudu Chusundaru Movie First Look Released
Published On: November 21, 2023 | Posted By:
ivs
Ilanti Cinema Mireppudu Chusundaru Movie First Look Released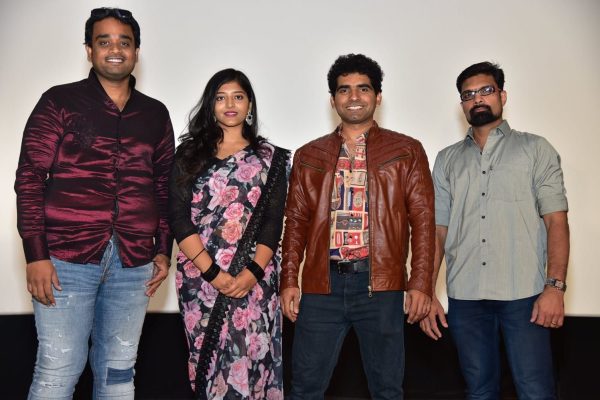 Super Raja's Magnum Opus "Ilanti Cinema Mireppudu Chusundaru" Unveils First Look at Grand Release Event*
Super Raja, the multifaceted maestro of Telugu cinema, has announced the grand revelation of his upcoming magnum opus, "Ilanti Cinema Mireppudu Chusundaru." The much-anticipated first look grand release event showcased a glimpse into what promises to be a ground-breaking cinematic experience.
Under the esteemed banner of Raja Krishna Productions, Super Raja, donning the hats of hero, writer, director, and producer, has set the stage for a movie that challenges the norms and boundaries of Telugu cinema. Describing it as a performance unparalleled in the history of Tollywood, he revealed astonishing details about the film during the event.
With a staggering claim of delivering around fifteen hundred dialogues in a relentless two-hour narrative without a break, Super Raja disclosed the extensive seven-month rehearsal period alongside theatre artist Vamshi Gone. Emphasizing the sheer dedication and commitment required, he reflected on the challenges faced while simultaneously acting and directing in a continuous shot.
The eight-minute title launch video, unveiled at Prasad Labs, left the audience captivated and astounded. From graphics, visuals, and concept to performances, music, and direction, every aspect showcased in the sneak peek has raised anticipation levels. Super Raja assured that the film will exceed even these high expectations.
Notably, the movie boasts a never-before-seen concept, a two-hour single shot with a mid-film song sequence where all dialogues are delivered seamlessly, followed by an additional 500 dialogues. Super Raja boldly declared that the film will exhibit the sheer hardship, sacrifice, and endurance endured during its creation.
Actress Ramya Priya, in her maiden film, expressed elation portraying a spectacular role, a character untouched in Telugu cinema's history. She praised Super Raja for understanding the depth of her character and ensuring justice in its portrayal.
Lead actor Vamshi Gone, primarily a businessperson turned actor, revealed the immense learning curve in accepting the challenge of a single-shot movie. Despite the rigorous seven-month training regime, he acknowledged the unparalleled learning opportunity and confidently asserted that the movie's acting and essence will be unprecedented.
Super Raja humbly attributed the movie's fruition to the unwavering support of his family, who financially backed the project. Hailing from a middle-class background in Warangal, he emphasized the film's creation without fear and with utmost respect for the industry.
The ground-breaking venture is slated for a theatrical release in February 2024, marking a new era in Telugu cinema. Super Raja envisages this movie as a catalyst, paving the way for several innovative films in the years to come, vowing to set a new precedent with each release.
Movie: Ilanti Cinema Mireppudu Chusundaru
Banner: Raja Krishna
Cast: Super Raja, Ramya Priya, Vamshi Gone along with many other
Director: Super Raja
Producer: Super Raja
Music Director: Sabu Varghese