Jai Ganesh Movie First Look Poster Released
Published On: November 18, 2023 | Posted By:
ivs
Jai Ganesh Movie First Look Poster Released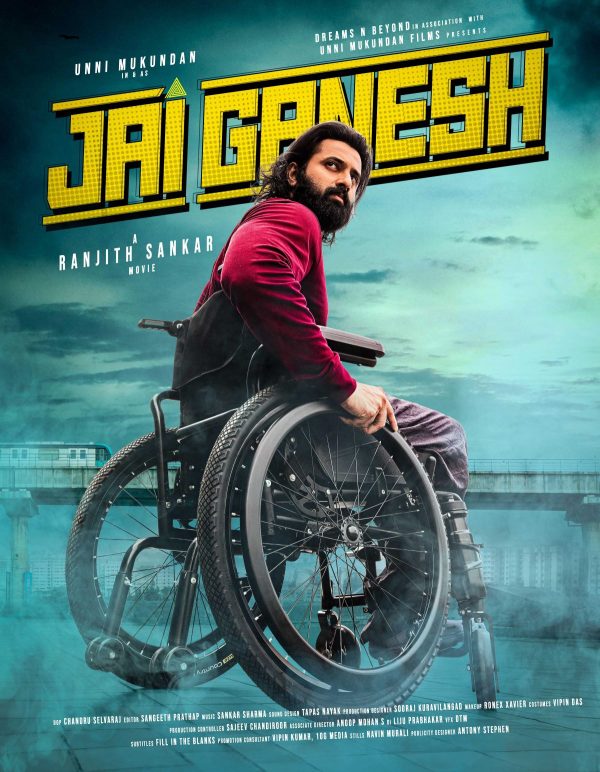 The first look poster for the Unni Mukundan – Mahima Nambiar starrer #JaiGanesh, directed and written by Ranjith Shankar, has been released.In theatres worldwide, Summer 2024!
Jai Ganesh | ജയ് ഗണേഷ് | जय गणेश | ஜெய் கணேஷ் | జై గణేష్ | ಜೈ ಗಣೇಶ್ | জয় গণেশ
Unni Mukundan's role is touted as one of his most challenging, set in a family entertainer with a thrilling backdrop that will resonate with both children and adults. The movie, currently in production, is a collaboration between Ranjith Sankar's Dreams N Beyond Productions and Unni Mukundan Films.
Mahima Nambiar plays the female lead, and Jomol makes a special appearance as a criminal lawyer after a hiatus. The cast also includes Harish Peradi, Ashokan, Ravindra Vijay, Nandu etc.
Filming is underway in the surrounding areas of Ernakulam, making Jai Ganesh Unni's next Malayalam film after Malikapuram. The crew includes notable talents like cinematographer Chandru Selvaraj, editor Sangeeth Prathap, music composer Sankar Sharma, and others. Stay tuned for this promising venture!
Jai Ganesh Crew:
Written & Directed by Ranjith Sankar.
Produced by UMF & Dreams N Beyond.
Cinematographer – Chandru Selvaraj.
Editor – Sangeeth Prathap
Music – Sankar Sharma
Sound Design – Tapas Nayak
Production Designer – Sooraj Kuruvilangad
Makeup – Ronex Xavier
Costumes – Vipin Das
Production Controller – Sajeev Chandiroor
Associate Director – Anoop Mohan S
DI – Liju Prabhakar
VFX – DTM
Stills – Navin Murali
Design – Antony Stephen
Subtitles – 'Fill in the blanks'
Promotion Consultant – Vipin Kumar
PRO: Tejaswi Sajja