MAD Movie First Single Launched
Published On: September 14, 2023 | Posted By:
ravindra
MAD Movie First Single Launched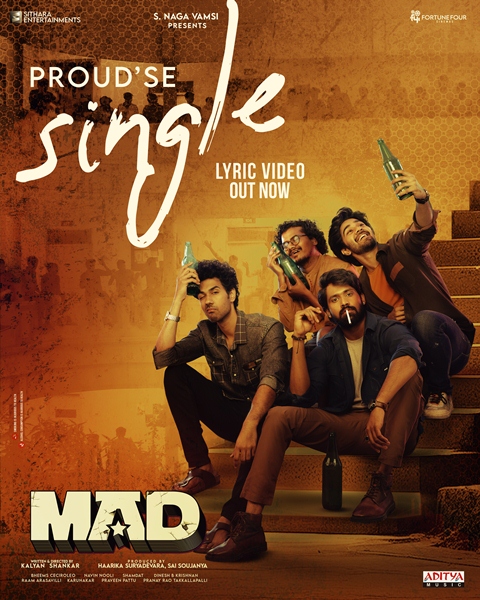 Sithara Entertainments Maddest Entertainer MAD team releases Proudse Single song!
Sithara Entertainments is now gearing up to present one of the Maddest Ever Entertainers, MAD with youngsters at the helm. Suryadevara Haarika is debuting as producer with this film while Suryadevara Naga Vamsi is presenting it.
Sai Soujanya of Fortune Four Cinemas is co-producing the film. MAD cast features youngsters like Narne Nithin, Sangeeth Shobhan, Ram Nithin, Sri Gouri Priya Reddy, Ananathika Sanilkumar, Gopikaa Udyan in lead roles.
Bheems Ceciroleo, who gave Dhamaka Blockbuster album is composing music for the film. MAD team has released a proud anthem for all Singles, Proudse Bolo Im Single from the album on 14th September.
The song features lyrics pertaining to lead characters explaining why one should be happy and proud to be single and not mingle in life. Proudse Single song is set to rock the dance floors as the peppy tune and catchy lyrics give a vibe to shake for all youngsters, especially, singles without any gender biases.
Movie is written and directed by debutant Kalyan Shankar. Shamdat and Dinesh Krishnan N handled cinematography.