Published On: October 9, 2023 | Posted By:
ravindra
MAD Movie Success Meet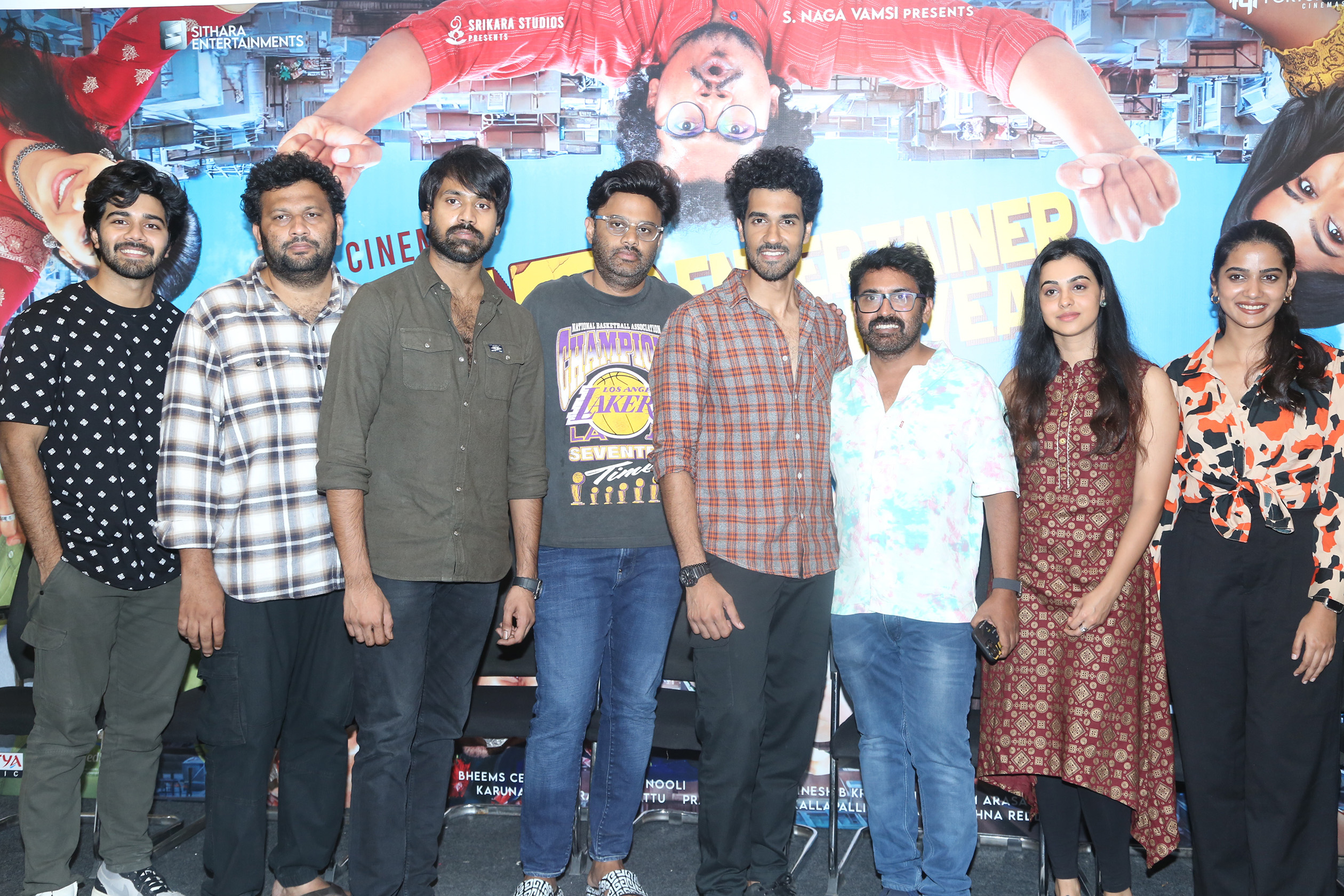 MAD is a hilarious film best enjoyed amidst a large, enthusiastic audience: Naga Vamsi
MAD released today is getting positive response from the audience. The reviews are wonderful. All screenings are witnessing packed houses, and MAD, a crazy campus comedy, is riding high on its success wave. During a post-release press meet, the cast and crew expressed their heartfelt gratitude to the audience for their unwavering support, which has propelled the film to grand success. MAD is presented by Sithara Entertainments in association with Fortune Four Cinemas.
Sangeeth Shobhan, one of the cast members, humbly acknowledged the appreciation, stating, Its truly gratifying to hear people talk so positively about our work. Were sincerely thankful to our audience for their support.
Director Kalyan Shankar commented, The movie has resonated with the audience on a deep level. The responses from Prasads, Sreeramulu, and Sudarshan have been nothing short of crazy. Our entire team is youthful, and the atmosphere is pulsating with positivity. The songs in the second half have garnered a fantastic response.
Naga Vamsi, the producer of the film, shared his thoughts, saying, I was confident in our project from the start. The idea of offering refunds, which came to us spontaneously, turned out to be a brilliant move. Even though we had a cast of newcomers, our promotional efforts paid off. The paid premieres saw an impressive turnout, and Sudarshan theatre generously contributing around 1 lakh for this new-comers film. Cities like Vizag, Kakinada, and Bhimavaram have shown strong numbers. With no major releases in the coming week, we are optimistic about maintaining this momentum.
He further added, Kalyans narration of the script had me laughing heartily from the beginning, and thats when I knew we were onto something special. I extend my appreciation to the media for their keen judgment. In the final 10 days leading up to the release, we launched an aggressive promotional campaign, and the results speak for themselves. MAD is a film best enjoyed amidst a large, enthusiastic audience. As a result, we steadily increased the number of screenings, and the college-centric storyline has truly struck a chord with viewers.
Narne Nithin, another cast member, expressed his contentment, stating, We are genuinely thrilled with the numbers; its a moment of great happiness for us.
Ram Nithin, who made his debut in this exceptional film, admitted, It still feels like a dream to me. I never imagined my debut would be in such a fantastic project. Im at a loss for words.
Gopika enthusiastically chimed in, We are absolutely ecstatic and pleasantly surprised by the overwhelming response. Thank you so much for this incredible support.
Sri Gouri Priya Reddy, summing up the sentiments of the team, noted, The buzz and enthusiasm surrounding the premieres and morning shows were exceptional. We always had immense confidence in our story, and it has truly exceeded our expectations.