Mama Mascheendra Movie Song Unveiled
Published On: September 19, 2023 | Posted By:
ravindra
Mama Mascheendra Movie Song Unveiled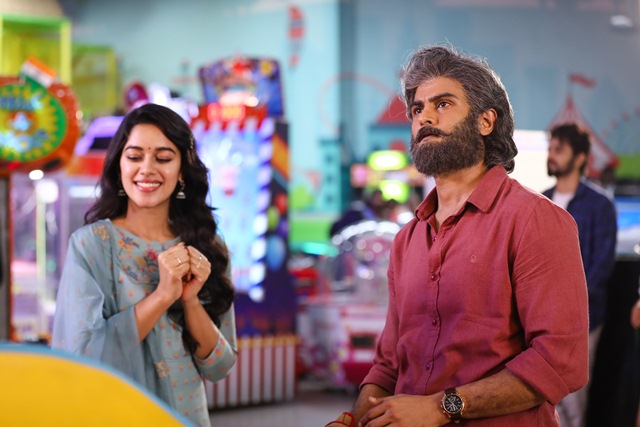 Nitro Star Sudheer Babu, Harshavardhan, Sree Venkateswara Cinemas Mama Mascheendra Adiga Adiga Song Unveiled
Nitro Star Sudheer Babu is coming up with a unique action thriller Mama Mascheendra directed by actor-filmmaker Harshavardhan and produced by Suniel Narang and Puskur Ram Mohan Rao on Sree Venkateswara Cinemas LLP. Sudheer Babu played triple roles in this movie where Mirnalini Ravi and Eesha Rebba will be seen as leading ladies.
As part of musical promotions, the makers unveiled the song- Adiga Adiga. Chaitan Bharadwaj scored a heart-touching Amma song that will make us emotional instantly and remind our fond memories of childhood with our mother. Lyricist Chaitanya Prasad expressed the lovely emotions so attractively, wherein Srinivasan Doraiswamys voice made it more captivating. The visuals are equally appealing.
The teaser as well as the first single received a superb response. Now, the second single becomes an instant chartbuster.
PG Vinda handled the cinematography, while Rajeev is the art director. Sonali Narang and Srishti of Srishti Celluloid present this bilingual movie made in Telugu and Hindi languages.
Mama Mascheendra will grace the theatres on October 6th.
Cast :
Sudheer Babu, Mirnalini Ravi, Eesha Rebba, Harshavardhan
Technical Crew:
Writer, Director: Harshavardhan
Producers: Suniel Narang and Puskur Ram Mohan Rao
Presenter: Sonali Narang, Srishti (Srishti Celluloid)
Banner: Sree Venkateswara Cinemas LLP
Music Director: Chaitan Bharadwaj
DOP: PG Vinda