Music Director Chakravarthi Birth Anniversary
Published On: September 8, 2023 | Posted By:
ivs
Music Director Chakravarthi Birth Anniversary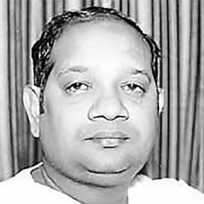 Kommineni Apparao (Popularly known as Chakravarthi) born on 8th September 1936 at Ponnekallu village in Guntur district of Andhra Pradesh.
Today is the 87th birth anniversary of this great Telugu Music director Chakravarthi.
Businessoftollywood.com salutes at this great music director on his birthday.
He was very much interested in music. In his college days he developed his own music troupe and gave stage performances with himself as singer. Chakravarthi learnt classical music from his guru Mahavadi venkatappayya.
He was an assistant director for N T R, Savitri starrer film Kanchukota directed by C S Rao released in the year 1967
He started his career as music director with the film Mooga Prema released in the year 1971.
He became popular as a music director with the film Sarada (1973) for which he has scored melodious tunes. After composing for the film Sarada no looking back for Chakravarthi.
He went on scoring music for about 950 Telugu films.He has also done re-recording for about 45 Hindi films.Apart from scoring music for Telugu films. Chakravarthi has scored music for many Kannada films and for few Tamil films.
Chakravarthi was an actor.He has acted in about 50 films doing character/comedy roles. Chakravarthi's last film as actor is "Lahiri lahiri lahirilo" (2002)
He was also a dubbing artist.He has done dubbing for about 500 plus films.
Like S P Balasubramanyam, Chakravarthi did dubbing for Kamal Haasan for few of his films.
The great Music director M M Keeravani worked as an assistant director for Chakravarthi.
The noted playback singer Mano (Nagoor Babu) was an assistant to Chakravarthi.
Chakravarthi's son Sri Kommineni(Kommineni Srinivasa Chakravarthi known as Sri) was also a playback singer and a music director died on 19.04.2015.
Few of popular songs of chakravarthi:-
"Ato ito Telipothundi ika ammi tummi telisipothundi"(this song is from the film Sarada – Chakravathi has rendered this song with his own music composition)
"Aagadu….aagadu…..Aagadu ye nimishamu nee kosamu agithe sagathu ee lokamu munduku sagadu ee lokamu"(film:Premabhishekam)
"Gaali vanalo varadaneetilo padava prayanam theeramekkado gamyamemito teliyadu papam"(film:Swayamvaram)
"Ee dhuryodhana dussasana durvineetha lokamlo rakthasruvulu chindisthu Rasthunna sokamutho maro mahabharatham aarava vedam"(film:Prathighatana)
"Aaku chatu pinde thadise koka matu pilla thadise Aakasa gangocchindi andalu munchhethindi godari pongocchindi kongulanu mudi pettindi"(film:Vetagadu)
"Srimathi gariki theerani vela srivari chenthaku cherani vela challagali yenduku chandamama yenduku malle poolu yenduku manchi gandham yenduku"(film:Sarada)
"Kusalama neeku kusalamena"(film:Balipeetam)
"Dikkulu choodaku ramayya pakkane vunnadhi seethamma…seethamma(film:Kalpana)
"Sirimalle poovalle navvu chinnari papalle navvu chirakalamundali nee navvu chiguristhu vundali naa nuvvu…naa nuvvu…(film:Jyothi)
Chakravarthi received Nandi award for the year 1983 as best music director for the film "Netibharatham"
List of few films of Chakravarthi as music director:-
1. Mooga Prema(1971)
2. Sarada(1973)
3. Balipeetam(1975)
4. Cheekati-velugulu(1975)
5. Babu(1975)
6. Yamagola(1975)
7. Annadammula anubandham(1975)
8. Jyothi(1976)
9. Naa pere bhagawan(1976)
10. Mallepuvvu(1977)
11. Kalpana(1977)
12. Driver Ramudu(1978)
13. Padaharella Vayasu(1978)
14. Vetagadu(1979)
15. Joodagadu(1979)
16. Kothalarayudu(1979)
17. Gopalaravugari Ammayi(1980)
18. Sardar Paparayudu(1980)
19. Premabhishekam(1980)
20. Devatha(1980)
21. Punnaminagu(1980)
22. Srivari Mucchatlu(1980)
23. Gajadonga(1981)
24. Kondaveeti Simham(1981)
25. Nyayamkavali(1981)
26. Justice Chowdary(1982)
27. Swayamvaram(1982)
28. Bobbili Puli(1982)
29. Khadi(1983)
30. Netibharatham(1983)
31. Sriranga Neethulu(1983)
32. Magamaharaju(1983)
33. Sangharshana(1983)
34. Inti guttu(1984)
35. Bobbilibrahmanna(1984)
36. Vijetha(1985)
37. Donga(1985)
38. Chantabbayi(1986)
39. Prathighatana(1986)
40. Kaliyuga Pandavulu(1986)
41. Dongamogudu(1987)
42. Jebudonga(1987)
43. Collectorgari Abbayi(1987)
44. Atthaki Yamudu Ammayiki Mogudu(1989)
45 Ammoru (1995)
Chakravarthi,who ruled Telugu cine music for over 2 decades as Chakravathi (The Emperor) died in Chennai on 3rd of February,2003.