Lyrical Video Of 1st Single Kannullo Nee Roopame
Published On: July 11, 2022 | Posted By:
ravindra
Lyrical Video Of 1st Single Kannullo Nee Roopame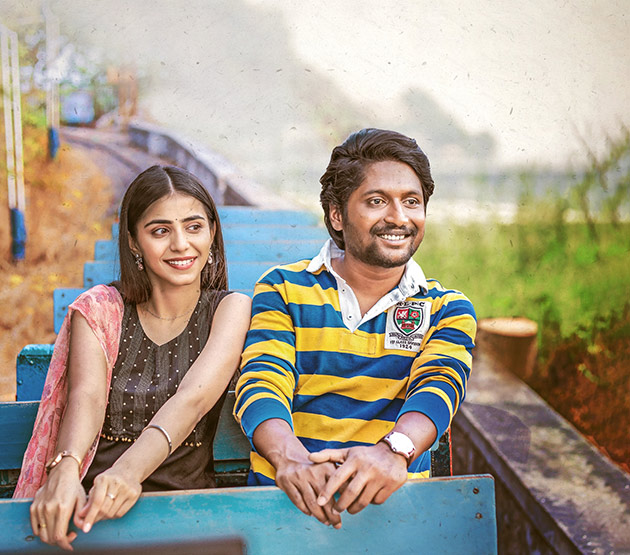 Lyrical Video Of 1st Single Kannullo Nee Roopame From Suhas, Chai Bisket Films, Lahari Films Writer Padmabhushan Dropped
Suhas is coming up with a wholesome family entertainer Writer Padmabhushan where he will be seen as a struggling writer. Being directed by debutant Shanmukha Prashanth, the film stars Tina Shilparaj playing Suhas' love interest. Chai Bisket Films, in association with Lahari Films, are producing the film. Anurag, Sharath and Chandru Manohar are the producers and Manohar Govindswamy presents it.
Shekar Chandra has rendered tunes. Lyrical video of first single Kannullo Nee Roopame has been dropped. The soulful melody has a pleasant slow-paced tune and banks on Dhanunjay's beautiful vocal renditions. Bhaskarabhatla penned the lyrics. The tune, vocals, and lyrics complement each other very well.
The beautiful moments and the small tiffs between the lovebirds are shown prettily. The chemistry between the lead pair Suhas and Tina Shilparaj is sparkling. The song is actually about Suhas expressing his feelings on his love interest. This song has set the bar high for the remaining songs of the album.
Venkat R Shakamuri handles the cinematography of the film getting ready for release.
Cast: Suhas, Tina Shilparaj, Ashish Vidyarthi, Rohini
Crew:
Writer & Director: Shanmukha Prashanth
Producers: Anurag, Sharath and Chandru Manohar
Presenter: Manohar Govindswamy
Banners: Chai Bisket Films, Lahari Films
Music: Shekar Chandra
DOP: Venkat R Shakamuri
Editor: Ramakrishna Arram
Art: Yellayya S
Ex-Producer: Surya Chowdary
PRO: Vamsi, Shekar